Honda Dealer Near Beaverton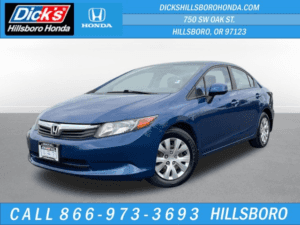 Few things are as rewarding as seeking something and quickly finding it. At Dick's Hillsboro Honda, you'll have your pick of models from Honda's prolific designs. They're expertly engineered for performance and comfort at a reasonable price. A speedy search for a Honda dealership near me might land you right here with us, and that's a great place to be if you're seeking out a new or used Honda for sale.
Everything You Need in One Place
As a Honda dealer near Beaverton, we've got the luxury of selling models that we know our customers can enjoy life in. Models like the Honda HR-V, Passport, and Civic sedan all distribute generous amounts of competent performance and everyday luxuries for the family who wants to be smart about their money and time.
Diversity
A Honda falls into just about any class that's available at dealerships across the country. At our Beaverton car dealers, you'll find the Honda Civic is available both as a sedan and as a hatchback. Strong trucks like the Ridgeline are also an option. Or you can look through Honda's enormous lineup of SUVs like the Passport and CR-V. Honda models aren't just diverse throughout many classes, though. They also come with a staggering array of colors and accessories to choose from.
Financial Flexibility
At our Honda dealer near Beaverton, you don't have to worry about finding a model that's in your price range. Honda makes budget models, and they make high-end, more luxurious models to suit your needs. Unlike many automakers that try to be either one or the other, Honda is content to make something for everyone. They're not worried about being seen as "too luxurious" or "too budget." They can be all things to everyone, and they are.
Classics
Our new and used lineup near Beaverton is an excellent example of just how good Honda engineers really are. The Civic and Accord are classics cars that deliver on all their promises each year. You can trust a new model or a used one. Which one you shop from might depend on your budget or your sense of nostalgia. Many people like to buy our pre-owned Honda models just because they remind them of a better time in life.
There's no wrong reason to buy a Honda from our dealership. Look through our inventory to spot what might be your next vehicle. Once you've found that model, you can read about its specs, look at pictures, and apply for financing at Dick's Hillsboro Honda. The finance team will respond to your application quickly and put you on a path to ownership. If you've got questions as you shop, our Live Chat team is there to help.
Contact Dick's Hillsboro Honda
Let's make a great deal on your favorite Honda for sale. We've got the brand's many old and new classics gathered together in one place for our loyal customers. At our Beaverton car dealers, you'll get the respect and fairness you deserve. Just contact Dick's Hillsboro Honda representatives if you'd like to learn more about our inventory or financing offers.