Honda Dealership Portland, OR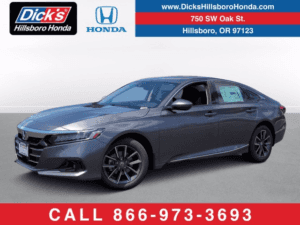 Dick's Hillsboro Honda is among a group of elite Portland car dealerships that always have consumer needs in mind. Some of our basic uncompromising principles include trustworthiness, commitment, and integrity. Those looking for a Honda in Portland Oregon will find more than just a dealership in our team. You'll find likeminded people who admire the Honda brand and what it does for Americans. Car dealers in Portland OR owe it to customers to stay on task and offer more than the ordinary. Your Honda dealership in Portland Or must offer everything you need to become an owner and feel fantastic about it.
New and Pre-owned
Variety is the spice of all car dealers in Portland Oregon. Unfortunately, not all of them are able to bring in the massive amount of inventory that we have here. You'll love having free access to every Honda in Portland Oregon. Honda's knack for creating models that make for reliable family travel is one of the reasons we chose the brand. To create something that does the brand justice, you can count on our Honda dealership in Portland OR to represent each model for the state of the art invention that it is. Learning about our models online is easy.
Services
The fundamentals of car dealers in Portland OR matter a lot, but the extras matter just as much. No one wants to work with a dealership that just shovels models at you before you buy. There needs to be friendly aftercare and a sense of responsibility on the part of every dealership. Here at Dick's Hillsboro Honda, we take responsibility in every way by giving you the perfect ownership experience.
You are welcome to buy your vehicle from us and then return whenever you need maintenance and repair. The certified auto mechanics that work in our service center are here for oil changes, computer diagnostics, brake repair, and accessories. You can also winterize your current Honda vehicle with a fresh set of tires at our auto care shop.
Getting Started
We invite everyone who loves the Honda brand to delve into our rich, carefully selected inventory of new and pre-owned Honda models. You'll find all your favorites in there, as well as classics from the past. Each model page displays full color pictures of the interior, exterior, and under-hood area of our inventory. Look below the pictures for "Basic Info" such as the color of the exterior/interior, transmission, and fuel efficiencies ratings. The more you learn about the model you buy, the more you'll be happy with what you buy. Our wide range of services include auto maintenance and repair, trade-ins, and financing. You can do a lot online now without even having to leave your house.
If you have questions as you shop, just connect with one of our team members through Live Video Chat. This relatively new feature allows you to accomplish from home what you used to have to travel out to the dealership to take care of. Shopping from home has never been this convenient. Connect with a team member through Live chat, write, or call us today.