Honda Dealerships in Hillsboro, OR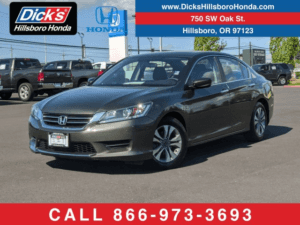 Honda's vehicles are with you through thick and thin, snow or sunshine, old or young. Models like the Accord, CR-V, and Civic are easy to handle, easy to enjoy, and easy to love. It's only fitting that people who buy a Honda model want to take great care of it at their favorite Honda Service Center. Dick's Hillsboro Honda is a place where every car and car owner can get what they need and then get back out there.
Award-Winning Service Center
You can buy any Honda for sale from us this year. Our Honda dealership in Hillsboro OR is outfitted with an entire inventory of new and used Honda models that will take you places throughout the years. It's here in our Honda service center that we make sure all those models have a place to stay healthy or get healthy again.
Honda Means Quality
A Honda dealer near me has the blueprint for car owner success. If you want to buy a great car and have a great time owning that car, you need a Honda dealership in Hillsboro OR that understand the importance of maintaining quality. Every Honda model is instilled with that deep down quality so many car owners demand. To keep your vehicle in top quality condition, our certified auto mechanics offer up oil changes, battery checks, and car repair.
OEM Parts & Accessories
The Honda brand comes with many parts and accessories that you can add to your model as time goes by. Many people like to put a metaphorical fresh coat of paint on their vehicle from time to time. You might also need parts like new batteries, brake pads, or rotors to keep your vehicle running in great shape. Our dealership has OEM parts and accessories to spice up your vehicle's cosmetic looks or to add convenience or entertainment to your model.
Extra Services
We've got roadside assistance, shuttle services, and loaner vehicles to those who qualify. These services come in so much handier than many people think. For example, you might know that your vehicle isn't going to start today, but if you can't get down to the dealership, exactly how's that going to be resolved? Our dealership can help you get the roadside assistance you need to bring your model in for service.
Shop with Complete Confidence
Dick's Hillsboro Honda wants all our customers to feel secure while they shop. Each sales associate who works with us is trained to know about the models we sell and what they have to offer you. If you ask questions, they're trained to respond promptly and correctly. You'll see for yourself that we're an honest group of hardworking people who have a long history of delivering both sales and service to our customers.
We update our inventory frequently and sometimes many times per day. Shop online with complete confidence. Pick out something that appeals to you and your family. Once you've got that dream model in mind, contact a member of our sales team to begin working your way to your next Honda vehicle.