Used Car Lot Near Me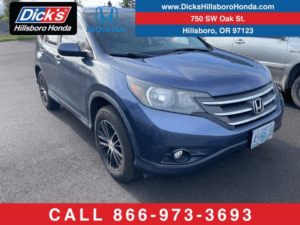 Dick's Hillsboro Honda is a place where all automobile lovers can gather together to find some of the grandest models in the world. You'll find our used selection has unique value to our customers this year, as everyone scrambles to save a buck or two on everything in our community. At this used car lot near me, you'll find many ways to save on your favorite used cars for sale.
Pre-owned is the Way to Go
Saving money isn't the lone reason for shopping pre-owned and certified pre-owned models this year. Thanks to recent advancements in auto data and resources, anyone can confidently buy used. You'll know you're getting a model that represents quality and will be reliable over the years. Some of our favorite models include the Accord, Civic, and CR-V. We even have older models like the Honda S2000 and Integra.
A well-rounded used car lot near me features both recently used models from the modern era and all your favorites from mid-decade and even decades ago. By spreading out Honda models over many model years, we're able to offer something to everyone. As a used Honda dealer, we know that variety is a big part of the reason that many people choose to buy pre-owned and CPO models. You don't just get stuck with what's now. You get the luxury of choosing something that's you.
Pay Less
Buying a used budget model means you can pay of your vehicle much sooner and pay substantially less than you would on a new model. A used Honda for sale has savings on both a down payment, car insurance, and monthly payments.
Finance Easier
It's usually much easier to finance a pre-owned or CPO model than a new one. New prices are often so high that it can put a new model out of reach altogether for many buyers. For those who can afford new, the requirements for financing might also push you into a higher interest rate than if you'd bought the same model used. Overall, though, it's just plain easier to be financed for a used vehicle.
Know More
A new vehicle's condition is certainly new, but that doesn't mean the model is going to automatically drive with no issues or not require attention from a mechanic even in the first year. New models are untested. Used models, on the other hand, have a full history you can read about. You'll see who owned them, when they took them in for service, and if there were any incidents in the model's history. There's no risk to buying a used vehicle anymore. Not only can you research, but you can test drive to verify that the vehicle drives the way you want it to.
Shop at our Used Honda Dealer
Dick's Hillsboro Honda is available both online and offline. While you're browsing online, take some time to get quotes for your favorite vehicles, get pre-approved for financing, or schedule service. We've got the tools that auto shoppers need to quickly find the models that are best suited for their lifestyle. You may call us or write to us online to get additional information about any model.