Used Cars Hillsboro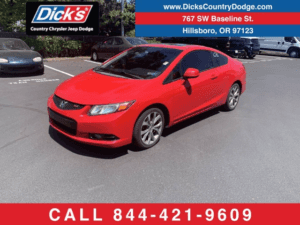 For people who appreciate value over everything else, Hillsboro used cars are a wonderful solution. No car on earth is quite as satisfying to buy as used cars in Hillsboro Oregon. Quality, fully inspected used cars in Hillsboro are a unique way to save money for your family while still driving home in a model that's eye-catching and dependable. Certified pre-owned models take things a step further. When you buy CPO models, you'll go home in something that's lower mileage and sometimes still covered by warranty. There's no gamble in buying used these days. It's just smart.
The Beauty of Buying Used
We're a proud part of used car dealerships in Hillsboro Oregon because we believe in the power of a pre-owned model. Used cars in Hillsboro represent a lot of what people prize: value, quality, and variety. Not everyone who shops used is doing so because they want a low price. Often, it's because they realize the depreciation of new cars will sometimes make a pre-owned model a better buy. Just like with people, age isn't always a sign that anything has deteriorated. Some things get better with time.
Hillsboro used cars span decades of the most imaginative technologies and aesthetics that Honda gave the world. As those models age, they often become classic, making them even more desirable. You don't have to wait until a model is old enough to be designated a classic. You can buy it now while it's still resourceful and powerful.
Trims pay a large part in why in why so many people buy used cars in Hillsboro Oregon. A fully loaded trim usually has leather or leatherette interior, higher-grade technology, and fancier exterior accents. Because of this, many people shop at used car dealerships in Hillsboro Oregon to upgrade to a trim that really hits all the high notes of a model year. The dip in price allows for a higher trim.
Exploring the Inventory
Dick's Hillsboro Honda has a ready-made website here where you can shop whenever you have a moment to spare. Like most people, we know you're busy. That means a trip to the dealership isn't always a possibility. Having access to online inventory gives you the freedom to browse through our massive online pre-owned car inventory at your own pace. If things are hectic, you can save it for another day. When you have time, you can shop from your phone or computer.
We pack each model page with information about your model and pictures of that same Honda vehicle. Explore everything online at your leisure. You'll find all of Honda's models well represented throughout our pages. While you're shopping, you can get in touch with our team to ask questions or leave a comment. You can even finance online if you'd like, a courtesy that every dealership owes to customers.
We hope you'll get started on your journey to a used vehicle today. Our tools are here for you to use at any time. The team wishes you good luck in your search. Just let us know if you need anything from us along the way.