Used Honda For Sale Oregon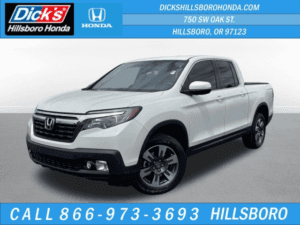 Are you looking for a used Honda for sale in Oregon? Consider Dick's Hillsboro Honda, a dealership that does more than just show you a vehicle and then sell it to you. We've got programs that make everything in-between more convenient and more beneficial to our customers. At our Portland car dealers, you'll discover models like the Honda Accord, CR-V, and Odyssey, each one more unique than the last.
What Makes for a Good Used Honda Dealer?
Our used cars for sale are always posted on our website as soon as they've been inspected and approved by our certified auto mechanics. This includes computer diagnostics, hands-on inspections, and frame/paint inspections. At our Portland car dealers, if it's not quality we just plain don't sell it.
Shopping from a used Honda dealer is one of the wisest choices you can make this year. You'll gain access to Honda's very diverse used cars for sale. At one time, they were a batch of brand new models at the top of their game. Over the years, they turned into veteran performers that go the distance with their owners.
We look for used models that are well cared for by their owners. Investing in a Honda inspires most people to really take care of the vehicle through maintenance and quick repairs when anything major goes wrong. Dick's Hillsboro Honda offers up every used Honda for sale in Oregon with full faith that our clients will see the quality in that model and want to own a part of that tradition of excellence.
Online Tools to Find Your Next Honda
A pre-owned Honda comes with benefits that last for as long as you own that vehicle. You'll find that your payments are lower, car insurance less troublesome, and registration less stressful. That's because all three of those things drop in cost when you buy used instead of new.
Most things with a bright, sunny upside also have a downside, but used vehicles don't. You can get a high quality Honda vehicle without overspending. A used model isn't always outdated. Many of our Honda models made within the last decade already had Bluetooth, Apple CarPlay, and Android Auto when they arrived to us. The exteriors are still modern, just a little different than the current model year.
Automobiles are products that change very slow over a decade of model years. You won't see huge, sweeping changes from 2019 to 2020 for example. While there's always a big redesign at the top of every generation, the rest of the models in that generation change so slowly that sometimes you don't even notice it. So you don't have to give up a whole lot of style or design benefits just because you shopped used. The only thing you give up is the high new car bill or dreaded high insurance payment.
Work with Dick's Hillsboro Honda
When you're ready to take the next steps in buying a vehicle, you can let our sales or finance department know. They're here to give you a respectful, fun buying experience that's convenient from beginning to end.