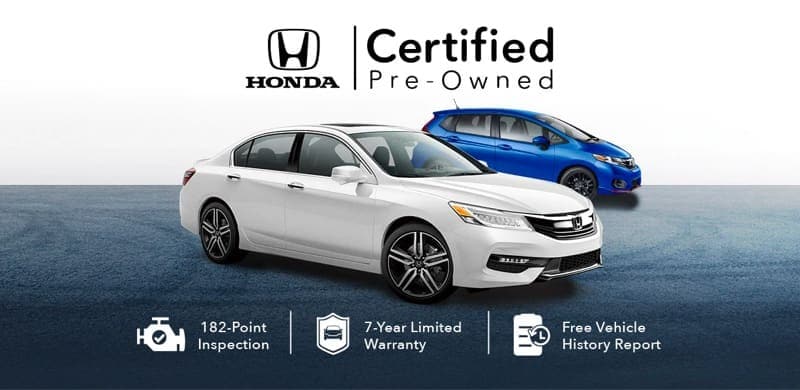 Certified Pre-Owned
Nothing compares to the quality of a Honda. No other program comes close.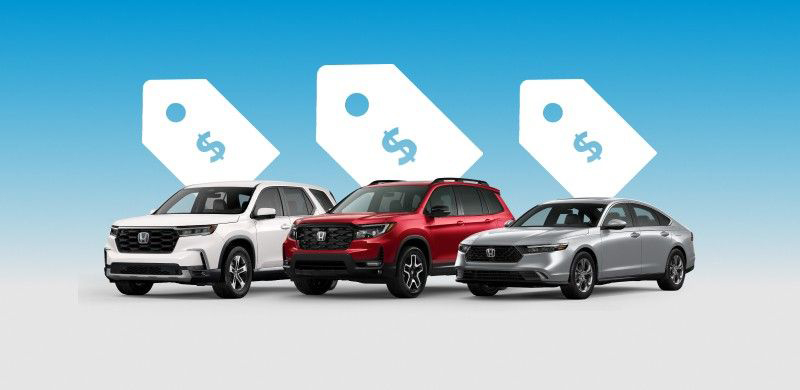 Current Offers
See this month's featured current offers going on now on new Honda vehicles.
Our Reviews
Staff were extremely helpful and patient! They gave me time to think over what was best for me and my family and did not pressure me to rush my decision. Jimmy was exceptional. I would strongly recommend him if you are looking for a new or used car. Simply fantastic!
Excellent experience With low pressure the entire staff was wonderful I would recommend anybody to the dealership
I actually for the first time ever had a very pleasant experience buying my brand new Honda. Austin was the salesman and he was amazing. I live about 75 miles away from the the dealership and I never had to even step foot on the lot. He was able to get me the car I wanted with the down payment and monthly payments I wanted with no trouble at all. Austin actually drove all the way to my house for me to sign the papers and then he drove my new car to me and picked up my trade in. He made 2 trips to the coast just to help me out and that is unheard of anymore these days. I will absolutly be going back when if I need to purchase another car. I wouldn't dream of going anywhere else. Thank you so much Dick's Hillboro Honda and Austin.
This is my third purchase from Hillsboro Honda over 20 years. The staff have always been helpful in finding a car that meets my needs. With the current shortage of vehicles I was concerned that a new purchase would be difficult. ANTHONY found my car on the incoming inventory list, walked me through the purchase and kept me updated every step of the way as my car moved toward home. Yesterday I was able to pick it up....I am very pleased with the car and the staff at Hillsboro Honda!!
Dick's Hillsboro as a dealer actually I don't know them very will all what I know they have a great background history and not let you leave without give you what you want. Thank you
Purchased a brand new Honda Ridgeline (had 8 miles on the odometer). It was sitting in the showroom. Love the car/truck. Anthony was very informative, low pressure and professional. Great experience.
Had an awesome experience at Dick's Honda with Josh Watson. I felt no pressure or like I was being forced into anything, they let me test drive their car by myself and it was no hassle. On top of that my situation was a bit complicated with purchasing but it was absolutely not an issue with them and they understood completely and worked with me the entire time. The entire team there was super polite and answered any questions I had. Would definitely recommend them to anyone
Mike and Anthony did a great job Zero pressure and helped me find a great car
Anthony is a nice saleman. He help me buy a car quickly and patient with me and my wife spend times with us when we was late . Thank you man .
Kai, thank you so much for being so patient and understanding with us. We truly appreciate your help and you willing to work with us.
Ashlie N. was so amazing and helpful with our new car! She definitely went above and beyond to make sure we got it even with a hiccup along the way!
Ashlie was absolutely the BEST! I've had the worst experiences with cars and dealerships but Ashlie has never made it easier to feel confident in my choice and make buying a car actually FUN! Crazy, right? She really is the best! So thoughtful and kind. Does whatever it takes to suit your needs! Nobody better. THANK YOU ASHLIE!
Excellent experience With low pressure the entire staff was wonderful I would recommend anybody to the dealership Please stop by the dealership just for a visit to see how wonderful they are
First time customer and the service guys RO#6144161 did a wonderful job of helping out an old 35+ year Tech. Bought the guys pizza as a thanks.
The service was good the people were friendly, I was helped by the sales person Ashlie! I bought my first car there!! My friend also bought a car here so I thought I'd check it out and I ended up getting exactly what I wanted 👍🏼👍🏼
I came in not sure about purchasing but Ashley was so knowledgeable on the car I was interested in and made the transaction very smooth . She worked with me on a trade in and I left feeling like I was taken care of . Thank you . I love my new accord .
Kai was great to work with. Helped us through the entire process from phone call to signing papers. We were in and out in about 2 hours and Mike the sales manager help us stay right within our budget. Overall it was a great experience.
Anthony helped us get a brand new off the lot Honda Civic even though we have no established credit, for as cheap as possible, and he was very nice and professional.
Worked with Kai to buy our 2017 Honda Certified Pre-owned Odyssey Van. He was a pleasure to work with and was straightforward and honest. The van accidentally came with only one key and they replaced a second one at no cost when we came back after. We live in Portland and the price was lower by $2000 then anywhere else around.
Anthony was a superb sales person. He was knowledgeable and helpful and not the least bit pushy. He went the extra distance to maker sure my purchase as a pleasant experience.
I had a great experience working with Kai, Alec and Karissa . They are great people . Please thank them for me for all they did
Great dealership with many cars to look at. Jonathon f was very friendly and helped every step of the way, he went out of his way to make sure I was happy with what I was paying.
I went in for an oil change and I was experiencing low air flow through the floor vents. Both Sophia and Darrell went out of their way to assist me in figuring out why. While I didn't get my issue completely resolved, their very friendly help went a long way to showing me that they cared. That's EXCELLENT customer service. Thank you! Jeanne
I didn't feel pressured to do more services. The Service advisor did a good job of explaining my repair options.
The staff assigned to me, although she tried to push some of the services to me, she stopped after I told her I am currently unemployed. For that she has exceeded my expectations. But they have consistently tried to sell me services I don't need. Also, their prices are starting to creep up. A few months back, I eventually went to Les Schawb for my tires when a previous sales person constantly tries to sell me a pair of performance tires which I don't need for my civic. I also started bringing my car in on service on a weekday, and the wait time is much more palatable. Free cookies, drinks and Roku are nice, but I much rather prefer an inexpensive place to service my car for the duration of its life. If you bring your air filter and cabin filter, the oil change becomes reasonable at $25. Every time I get up sold on services, I lean more and more on getting a full electric car with zero maintenance nightmare.

Welcome to Dick's Hillsboro Honda
For decades we at Dick's Hillsboro Honda have been among the top Oregon Honda dealers, bringing our Beaverton neighbors access to a large selection of new, used, and Certified Pre-owned Hondas at prices you can feel good about. Still, our dedication to our West Portland area friends doesn't end on the sales floor. We pride ourselves in being one of the Oregon dealerships that can also offer a full range of service options as well, including OEM replacement parts, certified technicians who specialize in your Honda vehicle, and online service scheduling as well. Use our vehicle finder service to locate the Honda your Portland commute has been missing, then explore the financing options available to take it home with you today. We also strive to make the car buying process as easy as possible with our convenient online tools. These tools allow you to calculate your payment, estimate your trade-in value, and even apply for financing in just a few clicks of the mouse. To learn more, or to schedule a private Tigard area test drive of the vehicle of your choice, contact Dick's Hillsboro Honda, your trusted local Honda dealership near Portland, and let us treat you right.
This is the right year for used cars in Beaverton, and Honda in Hillsboro has the perfect fleet of used vehicles for our loyal customers. Dick's Hillsboro Honda has just the right collection of pre-owned and certified pre-owned vehicles for our car shoppers this year. Before we dive into the inventory and what it has to offer, let's take a sneak peek at all the advantages of shopping for a used vehicle. What makes now such a great time to search for used cars near you?
Versatile Selection
Dick's Hillsboro Honda has a wide selection of used vehicles for sale. Used cars near Portland have the added value of versatility. People who are shopping for a vehicle want to have a broad range of futures to choose from, and when you dip into the models of the past, you unlock additional versatility. For example, many customers shopping for a Honda in Hillsboro come from a school of thought where you don't need the latest connectivity tech. You might just want a solid V6 powertrain with a nice leather interior, something that many Honda used cars in Beaverton offer.
The same goes for drivers who are more suited to a modern vehicle that includes today's most connected of Honda cars near Beaverton. The great thing about the Honda brand is that it offers both ultra-modern and throwback vehicles that appeal to Honda Portland shoppers. Whatever kind of vehicle you love, chances are that it's here at your Honda dealer's Beaverton lot.
Value that Lasts
Used cars in Portland have another amazing secret to share with drivers. They have slower depreciation than new vehicles. At our Honda dealers Beaverton lot, you'll find that used cars give you a lasting value above those of brand new models. Our selection includes all the favorites from the past and all the latest and lightly used models you've just recently learned about. Car dealers in Portland find that used shoppers sometimes don't realize that pre-owned models hold onto their dollar value longer. This is one of your most pleasant surprises when you shop for a Honda in Portland.
Confidence to Buy
Every Hillsboro Honda shopper needs the confidence to buy a Honda model knowing that they've made the best choice for themselves and their family. Every Honda dealership near you needs to give customers the confidence to make a great deal on a new or used vehicle. How exactly does that happen? Like most people who shop for cars for sale, you'll want extra assurances that the vehicle you're buying is in the condition the dealer says it's in and that will be with your family faithfully throughout the years. At Hillsboro Honda, we create this environment by offering extra services.
Vehicle history reports on used vehicles have become our go-to confidence builder. Honda shoppers are always welcomed to take a look inside any model's history and see how many owners the car has had, when it was maintenanced, how much it cost new, and if it has any liens on it. You need those "clear title" assurances to know that you're buying a vehicle that matches your high standards.
Multi-point inspections are another way that our Honda team near Beaverton gives added assurances about our used vehicle. Building confidence for used car shoppers is our specialty. The team here makes you feel comfortable and shows you the processes we use to make sure our inventory is in terrific shape for every customer who wants a quality used vehicle. By researching your model, its specs, and then test driving here at our Honda dealership near me, you get a true sense of quality about your vehicle.
Huge Selection of Honda Models
No matter how many assurances we give you, nothing matters without one of the largest inventories of any car dealer in Portland. When you buy a Honda near Portland, you've got to see the entirety of the brand before you in the inventory. Some dealerships, unfortunately, end up missing out on important models and leaving them out of the lineup. We never do this. It's our goal to have every single Honda model sitting out there and ready for our customers to test drive.
Over the years, we've watched this brand grow and give people so much happiness. Our inventory continues to grow with the brand new, as we've added models like the Fit Sport, Accord, Civic, CR-V, and Ridgeline. Our voluminous inventory is here to represent the Honda brand in a way that makes customers feel like they've seen it all. When you finally pick out the perfect pre-owned vehicle, we want you to feel like you didn't miss anything. That's why we constantly add new vehicles to our inventory.
We've broken down our used inventory into many different search categories so that you can pick your preferences and easily land on that model that speaks to your lifestyle and heart. Search by year, model, trim, engine, color, bodystyle, and so much more. It's as easy as clicking on the category that you want to pinpoint. Once you've done that, our site shows you every available model in that category. You'll find all your favorites and maybe a few new pre-owned favorites to choose from. From there, request a free quote, apply for financing, or stop by to test drive your favorite model and trim.
Ready to Get Started?
Dick's Hillsboro Honda hopes you've learned more about our used inventory and found a few good reasons to start a search for your next model right now. Our team is here to answer your questions as they arise. We're reachable by email, phone, Live Chat, and here at our dealership. As a family-owned dealership, we have great customer service skills and a bright, sunny attitude for those of you on the lookout for a pre-owned or certified pre-owned Honda. You'll find our crew is laid back and easy to work with. Write or call us today to learn about our Honda specials and additional services you can get for any model of vehicle here at Dick's Hillsboro Honda.
Get Directions To Dick's Hillsboro Honda